Public Transport, Rail and Freight Advisory / Consultancy
The Transport / Rail Blog

Heriot, West Otago is a small town in New Zealand, where I grew up. It is an apparently diminutive little town in the middle of nowhere on the South Island but a town that few know was pivotal in New Zealand's Commercial and Farming heritage.
Growing up in Heriot in the 1970's was great time but is was also very much the end of an era. For starters there was the railway station and the daily freight train from Gore (I have to say that as this is a Railway Transport blog after all). This gave the town a sense of importance and also connection to the larger world out there. The Heriot to Edievale railway extension had closed at the end of 1967 and Heriot was now the terminus of the Tapanui Branch Railway line which in of itself lended the town some importance on the national railway network.
As a town In the 1970's and early 1980's Heriot had a Bank (BNZ), a Post Office (with another bank POSB), a Newsagent and sweet shop, another bigger shop that sold just about everything from groceries to hardware to toys to clothing, travel agents (where I used to go and pick up brochures and dream of traveling away from Heriot), four farming supply shops (Wrigthson NMA, Donald Rieds, Otago Farmers and Dalgety's), a Motor Garage selling petrol and maintaining motorcars and farm appliances, Fertiliser stores and a general truck transport company (West Otago Transport).  It also had several churches, a town hall, a fire station, a public library, a concrete works manufacturing factory, and a primary school equipped with a public swimming pool. It had public tennis courts, a pre-school facility for toddlers, various sports fields and a pretty 9 Hole Golf course. There was a course also a Hotel with restaurant and public bar attached. It was in fact quite a town all for about 300 people that lived there in addition to those that lived nearby on the surrounding farms.
However, like many small towns in New Zealand it has suffered greatly from the changes that wreaked havoc to rural New Zealand that started in the 1980's about the time I left home to go to the big city to work and study. When I left Heriot in 1981 it still had much of its vibrancy but it's importance had already started to wane. The first big loss was the closure of the Railway in late 1978 that occurred due to the big flood damage in October of that year and the drop off in freight tonnage. With trains no longer coming to Heriot, the town, I believe, had lost part of its soul. Sure West Otago Transport (the local trucking company) helped fill the gap but Heriot slowly started to seem somehow less relevant in the bigger scene. Where once there was action in the railway yards there was now a deathly silence - a harbinger of things to come.
As Heriot entered the 1980's the protectionist economy that supported small towns like Heriot could no longer be sustained as our greatest export market for primary produce (the United Kingdom) had ten years previously joined the EEC and so one of NZ's biggest export markets was curtailed. The Government started a drastic reform program that was similar to what happened in many other parts of the world - here it was known as Rogernomics (named after NZ's Minister of Finance), in the USA it was Reaganomics and in Britain it was Thacthernomics.
In the early 1980's Wrigthson NMA and Dalgety shops closed. The bank shut up shop. The news agent closed next and Donald Reid and Otago Farmers stores merged into one store. The concrete works closed down. By 1988 the Post Office had closed and other services disappeared forever like the public library.
What remains now is West Otago Transport, 
http://www.westotago.co.nz
, a farm machinery garage only, the Fertiliser stores, a much smaller general store with a farm supplies agency that is struggling to survive, a Community Center, the Golf Course, the Sports fields, School and Public Hotel. One church still runs as does the Fire Station. Heriot is very much a shadow of its former self. Some contracting businesses like Heriot Earthmoving still remain.
However Heriot is special as it was from here that was born perhaps New Zealand largest private commercial enterprise - the Todd Group. The former Todd historic homestead happened to be our closest neighbor in Heriot across the paddocks. The Todd business had started in Heriot in 1885 about the time the Railway came to town. From it grew New Zealand biggest motorcar assembly company and what remains as New Zealand largest Oil and Gas Exploration company - Todd Energy. Many other company's and investments make up the larger the larger Tood Corporation.
What a great way to remember the little town - the Todd family are especially proud that they came from Heriot and they have never forgotten where they came from and neither will I! Heriot was a great place to grow up and build from dreams.
The following is a news story taken some time ago from the Christchurch Press about Heriot and its often forgotten place in New Zealand's Commercial and Farming history (it was also the cradle of the famous New Zealand sheep breed, the Romney, now exported all round the world).
Farming and fortunes
Heriot is proof that small-town beginnings can lead to great riches.
A ramshackle building stands halfway down Heriot's main street. When the light strikes at a certain angle, you can make out the name: Todd Brothers Grain Store.
This vintage structure seems at home. Heriot, hub of West Otago, is 150 years old this month.
The Todds launched businesses here which led them to become reputedly New Zealand's richest family. They built an empire in tiny Heriot that included a wool scour and fellmongery, stock and station agency, motor garage and car assembly.
When the Todds moved to the big cities, they became national leaders in vehicle assembly (Humber, Hillman, Commer, Chrysler and, later, Mitsubishi), motor fuels (the Europa brand) and oil and gas exploration.
But they never forgot where they came from. The Todds still donate prizes to children leaving Heriot School each year and they contribute to community causes. They are supporting 150th anniversary celebrations. And they own and maintain the little whitewashed cottage where it all began.
George and Nola Garrett live in the Todd Cottage. They say that since it was given Historic Places Trust registration, they have had many visitors pop in for a look.
Charles Todd left the goldfields near Cromwell and moved to Heriot in 1864. The settlement had already been visited by a disappointed Gabriel Read. About 1860 this Tasmanian prospector sought the prize on offer for a find of gold in economic quantities. Striking nothing in West Otago, he was heading back to Dunedin when he stuck his shovel into ground 50km away and made the discovery that sparked the Otago goldrushes.
Todd set up a wool scour and fellmongery, part of which still stands, at Heriot. He then left the business to his son, Charles jun, and returned to Central Otago. Charles jun married a local woman and they raised four sons in the little cottage. These sons became the Todd Brothers. They brought the first car into the district, in 1908. They established a motor garage and gained the franchise to import "knocked-down" Ford cars, which they assembled and sold throughout New Zealand.
Heriot township, strung along a main street, has never been big. About 300 people lived here in its prime and today's population is only a third of that. But the surrounding area, a broad valley of rolling hills, north-east of Gore, has always been intensively farmed. This healthy and highly productive land is the cradle of New Zealand's romney sheep breed.
Heriot resembles many small towns. Rickety verandas lean against derelict shops; the banks and post office are boarded up; two of the five former churches still stand; a store sells basic items and a transport company sprawls over former railway yards.
It was a busier scene when George Garrett arrived from the Isle of Man in 1958. Nola was working in the grocery-haberdashery, which was "extremely busy". Regular stock sales brought hundreds of farmers to town. Three taxis shuttled fencing and shearing contractors to pubs at Waikaka and Raes Junction in prohibition times. And six stock and station firms operated agencies.
The names of these firms read like a roll of honour: Donald Reid, Otago Farmers, Dalgety and Co, NZ Loan and Mercantile, National Mortgage, Wright Stephenson and, of course, Todd Brothers.
For most of their shopping, residents make the 30-minute drive to Gore. Caught in a never-never land halfway between Invercargill and Dunedin, they are Otago-ites not Southlanders. When they "go to town", it is to Dunedin they head.
Heriot residents tend to avoid visiting nearby Tapanui. Farmer Gloria McHutchon says rivalry between Heriot and the forestry town at the foot of the Blue Mountains has always been strong – sometimes bitter. Teenagers go to Tapanui for high school, families may go there for medical services, but that is all.
Farmer and local historian Peter Herbert says the government bought and subdivided land to establish small farmers as the goldrushes petered out and again after World War 2, which boosted Heriot. The town's fortunes were built on farming families that settled the 200-acre blocks carved up in the 1870s. These fortunes spawned the stock and station agencies, many of which "carried" their clients through hard times.
Todd Brothers was such an enterprise.
"They were very genuine people. They had a sound relationship with their staff and were very generous," Herbert says.
The Todds moved from Heriot in the 1920s. Their cottage passed through several owners until the Garretts bought it in 1964. They sold it to Bryan Todd in 1978. He restored it, then leased it back to them. So, in a way, the Todds have never left.
Their influence will loom large at Heriot's 150th anniversary events: a social evening on May 18, street parade, gala and dance on May 19 and bus trip and church service on May 20.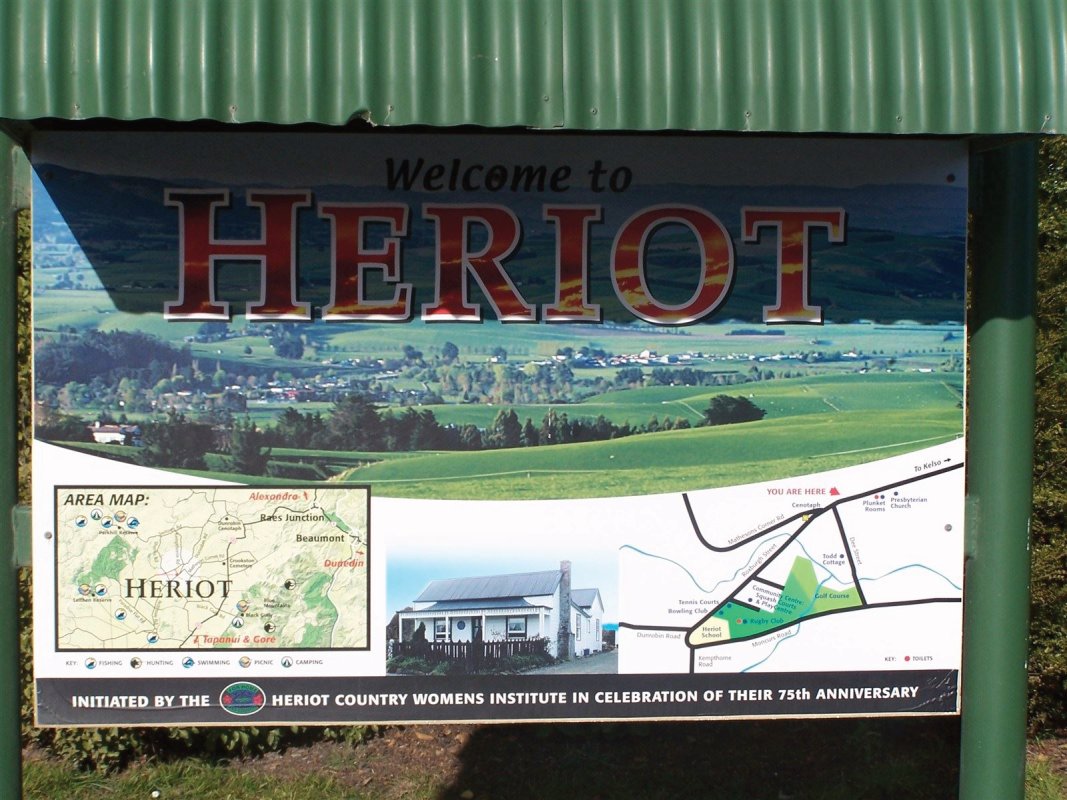 Ends
Readers may notice some subtle changes to this website as it has been renamed Heriot-Edievale.Com.
The Heriot-Edievale Enterprises Ltd consulting business is now closed. I am no longer resident in New Zealand and have moved to Abu Dhabi in the United Arab Emirates (UAE) and as such it is not possible to continue with this business any longer for various reasons.  I am now refocusing my efforts on my new role as Strategy and Performance Director at Etihad Rail in Abu Dhabi in the United Arab Emirates.
Etihad Rail is a very exciting leading edge rail development that is basically building a brand new rail system from scratch. It is indeed a privilege to be part of something that is building a entire integrated rail system both for freight and passenger traffic across the Emirates.
In the end it was a straight forward move for me - Follow my dreams. How often does someone get the chance to be part of building an entire nations railway network from scratch. It is not something I thought I would ever see as most countries built their railways back in the 19th century. A link to the website is here:  
www.etihadrail.ae
As for New Zealand - whilst sad to leave in some ways I am very much glad to leave behind me much of the negative sentiment towards rail in that country and move on. I am sad about the Napier to Gisborne Line closure. I am sad about Long Distance Rail passengers destruction and demise over the past 10 years. I am sad about the SOL Line closure. I am sad that Hillside Workshops "had" (I don't think it necessarily had to really) to close. So much tearing down of New Zealands rail frabric has occured it could make you cry. 
Much of what has happened in New Zealand though has at least been partly been outweighed by some very positive developments - Complete rekitting and rebuilding of the Wellington Urban Rail network. Expansion, rebuilding and electrification of the Auckland Urban Rail network and last, but certainly not least, the rebuilding of the core Railfreight business through the KiwiRail $4,3 Billion Turnaround Plan.
Will Rail ever be fully financially self sustainable in New Zealand. My view is No. It is too big a ask for such small tonnage and a relatively vast network. The economy is too small and the costs are too large. They need to learn in New Zealnd what the rest of the world already largely knows. Rail needs to be ge given benefits/credit for its externality Wider Economic Benefits (WEBs). This is especailly the case in a country like New Zealand where road and rail traffic density is so light.
But Jim Quinn and his team must be given credit for something that no one else managed to acheive in over three decades - secure funding to help turn freight rail at least partly around in a wider view of a sustainable future.
On Scenic Rail the new AK carriages are a bright spot and produce a flicker of hope that one day Long Distance Rail Passenger may recover. I am watching with interest but new flair and committment by a entrepreneural spirit, as I have said many times before, will be required and yes the Government should contribute if for nothing else but a sense of national pride and nation building like they do elsewhere in the world.
However I wish them well back in New Zealand and I will continue to watch from afar in the Middle East with great interest the goings on in "downunder" Australia and New Zealand (and occassionally comment).
Good luck New Zealand Railways!!!!
I have always been fascinated by Titanic, Ocean Liners and big ships in general. 
As a young lad I spent many weeks at sea on the Achille Lauro, another liner with its own sad history, that is now also at the bottom of the ocean. Also like Titanics sister ship Brittanic, her sister the Angelina Lauro now also lies at the bottom of the ocean. So I guess for this and many other reasons the drama of the ship has special meaning to me. Like many I feel that I know her. Not to mention the maritime transport interest I have always had.  
She was a great ship, a triumph of the industrial age and her passenger list was a microcosm of society at the time. Her tale is also one of as much relevance to the world today as it ever was. It is a classic tale of the Greek Tragedy type. Many lessons can be learnt from her sad story.
She was fated. A victim of a confluence of vile circumstance. From the near collision with the liner New York as she left Southampton to the coal fire in one of her bunkers. The last wireless ice message not getting through to the bridge. The rivets holding the lower hull plates together not being of optimum strength due to construction difficulty. The weather conditions on the night of April 14 creating optical illusions not unlike the way white out affected the Air NZ Mt Erebus flight inhibiting the lookouts view and perspective of the iceberg in her path. The unfortunate incident of the steamship Californian being only 10 miles away from the accident site and not coming to Titanics aid after she hit the iceberg. There not being enough lifeboats on board for all the people on board. All the personal stories and tragedies with them. That big business was alleged to be pushing the liners of the period to sacrifice safety by traveling too fast and in a reckless manner. And the list goes on. Much of it has passed into folklore and legend. The old adage that you could write a book on it holds true and so many have been written on the subject. And it never seems to get less interesting.
But at the end of the day in its most simple form it was a human tradegy. A sad but instructive tale of our collective inability to fully control our destiny and environment despite the best technology, confidence, effort and will in the world. Whilst also being a lesson in humanity, it is also a lesson for us all the be more mindful about the fragility of man and our place in the known universe.
And so it is 100 years ago since that tragic night on April14/15 1912 when the great White Star liner Titanic sank and over 1500 souls perished in the icy waters of the North Atlantic.
Rest In Peace Titanic and all your passengers and crew
I have been reading a interesting book lately callled "Eleven Minutes Late" by Matthew Engel. The comparisons of British Rail to New Zeland Railways are truely astounding.
In New Zealand we have had much the same experiences as Britain as regards to our Railways (both today and in the past). I cannot recommend this book strongly enough to anyone who has a interest in the social history of British, or for that matter, New Zealand Railways. Substitute Rt Hon Peter Gordon for Dr Beeching in 1960's and the other comparatives right up to the present day are astounding.  Here is the Blurb.

To the traffic manager, British Rail Southern Region:
Dear Sir, Every morning my train, which is due at Waterloo at eight fifty-eight, is exactly eleven minutes late. This is infuriating… Why don't you retime your trains to arrive eleven minutes later?
Yours faithfully,  Reginald I. Perrin."
"I love trains. I hate trains. This is a book about trains. This is not a book about trains. It is a little about me. It may be a lot about you. This is a book about the British."   

From the Prologue to Eleven Minutes Late
In the spring of 2007 Matthew Engel finally flipped. After years of getting cross at the vagaries of Britain 's railways he decided he had enough. He wanted to know WHY.
How did the British invent railways, and then go on to run them so badly?
How come the nation was so obsessed with trains – weaned on Thomas the Tank Engine, dotty about preserved steam engines – and yet the system was a national joke?
So he set out to explore. He travelled the country from Penzance to Thurso. And he explored the history of Britain 's bizarre relationship with its trains. He found he was half John Betjeman, revelling in the hidden charms and the eccentricities of the network, and half Victor Meldrew, in a perpetual grump about its wretchedness.
The railways, he concluded, were the ultimate expression of Britishness, representing all the nation's ingenuity, incompetence, nostalgia, corruption, humour and capacity for suffering.
Engel-Betjeman found a train still serving afternoon tea with Individual Pots of Strawberry Jam. Engel-Meldrew found it was about to be abolished.
Engel-Betjeman found gorgeous branch lines on perfect summer evenings. Engel-Meldrew was surrounded by mobile phone-shouters, feral teenagers, demoralised staff and mutinous commuters. And he met, beyond question, the rudest man on the railways.
Engel the historian found a pattern of disaster dating back to Day One in 1830, when the politician William Huskisson was killed by a train. From then on, he found it tempting to conclude, the political class has been taking its revenge.
Almost every decision – or more often indecision – taken by British governments since then has turned out to be wrong, he says, except one: the Victorian cock-up that miraculously helped save Britain in two world wars.
He talks to politicians like Sir John Major and John Prescott, railwaymen and experts. Nationalization was a disaster, he concludes. Privatization was a bigger disaster. Labour's refusal to reverse that decision was worse still. And the demon-figure of Dr Beeching was a disaster too – but not for the reason generally supposed.
He searches literature, art and psycho-sexual textbooks to try to explain why the British are different from other nations, who somehow think the railways are simply a means of transport. Whereas the British managed to transform "trainspotting" from a national craze to an all-purpose insult.
Eleven Minutes Late
is a paean of love and a polemic of despair. A eulogy and an elegy. And wonderfully funny. It is published in paperback by
Pan
.
The 28th December 2011 is a special anniversary for Heriot-Edievale.Com for it was 44 years ago today on the 28th December 1967 that the last passenger train ran from Heriot to Edievale and return. The line was formally closed to rail traffic after that train ran.
This post commerates a sunny Thursday afternoon all those years ago when more than 500 passengers trundled their way from Heriot to Edievale and back, in West Otago New Zealand, on a historic train trip. A trip  that will not now just be lost in the mist of time, but serve as inspiration for a fast track to the future for this company.
See the article on that last train trip at the link below.
This Blog is now officially live!
/